Explore Your Library
We're open! What do you need?
What will you discover next?
Search the library catalog.
Access over 2 million items!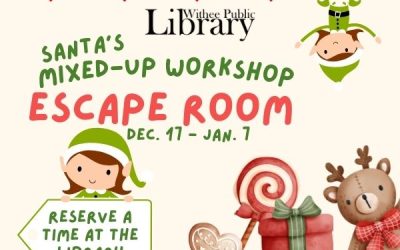 Saturday, December 17th from 10AM - 2PM and during open hours through Saturday, January 7. Reserve your timeslot to save Santa's workshop in time for Christmas! Join us for the "Santa's Mixed-Up Workshop Escape Room!" Each adventure takes about...
read more
Browse New Titles at Withee
Click or call to request a title with your Library Card.
Explore the Digital Library
Resources included with your library card…
Building Hours 
Mon, Tues, Thurs, & Fri
Open from 10am-5pm
Saturday 10am-2pm
Sunday Closed